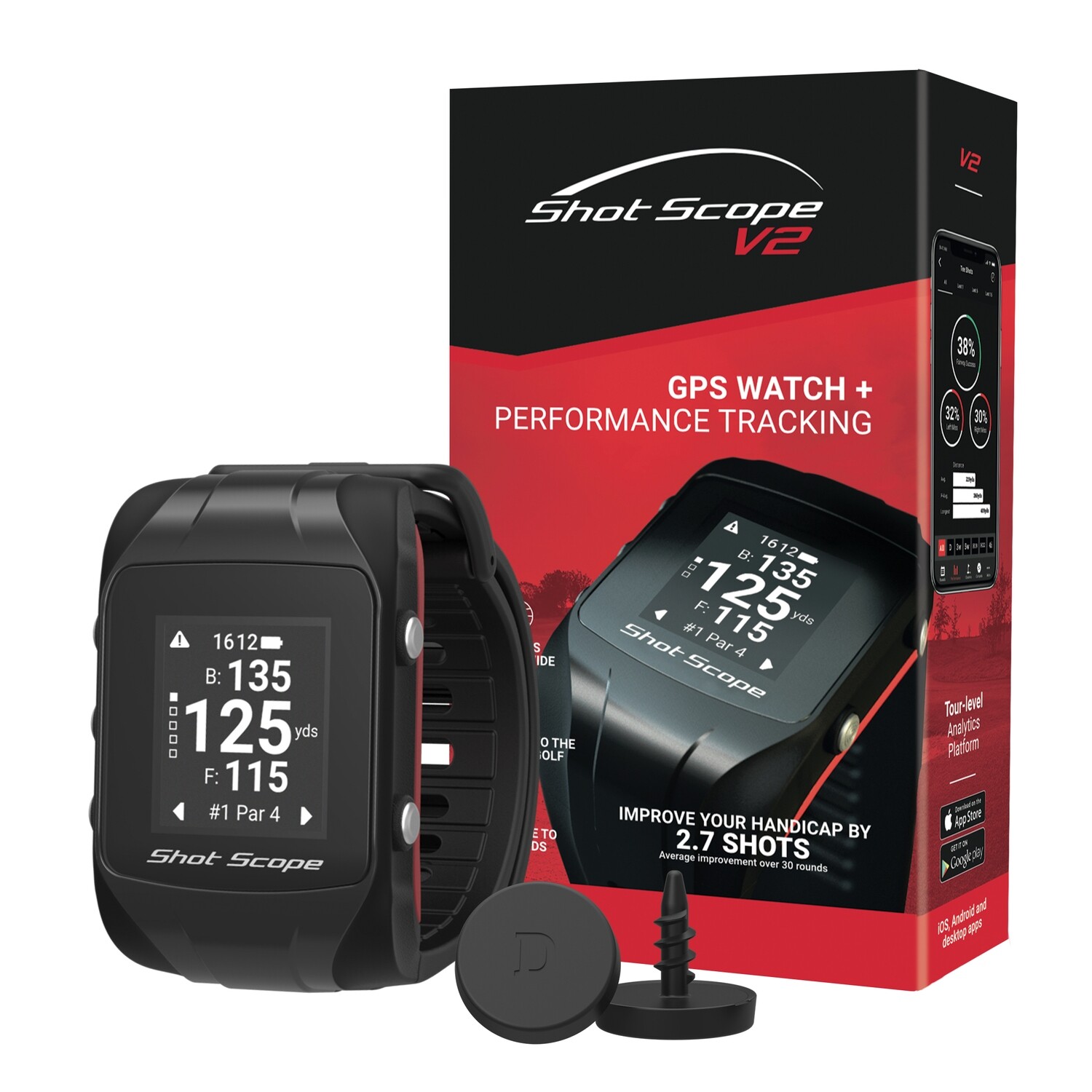 ShotScope V2
SKU MSMG0001SSGPST
Product Details
Shot Scope V2
GPS watch with Automatic Performance Tracking
Set Up, Play, Upload, and Analyse with this highly accurate golf improvement tool. The GPS watch offers dynamic yardages to the front/middle/ and back of the green, from a database of 40,000 golf courses worldwide, with free firmware updates. The detailed mapping of the courses provide highly accurate distance calculations, based on real time location and angle of approach.
The V2 not only provides you with accurate GPS, but has the ability to track and monitor your performance. Performance tracking and access to 100+ statistics allows you to make well-informed decisions, to focus on how to improve your game.
This system comes with 16 club tags to enable automatic club recognition, allowing you to track and analyse your golf game through an interactive performance dashboard. This gives the golfer better insight to your rounds of golf, whether on a mobile or desktop, giving you access to over 100 Tour-level approach, short game, tee shots or putting data, to assist you tackling your weakness and improving your golf game. This system conforms to the rules of golf.
Product Information and Features:
On-Course
GPS + Performance Tracking
3 different play modes (GPS, GPS+Track & PRO)
Highly accurate Dynamic Yardages to F/M/B of green and hazards
Distances available in Yards or Metres
Fully-automated data collection
Clubsense™ technology for effortless performance tracking
PinCollect™ technology for improved approaches, short game and putting statistics
16 club tags with Smart GPS chip enable club recognition
No tagging and no phone required
Over 40,000 courses available worldwide
Shows date and time
Conforms to the Rules of Golf
Off-Course
No annual subscription – free firmware updates
Free apps for both desktop and mobile on iOS and Android
Interactive Performance Dashboard
Analyze 100+ Tour-level statistics
Industry-leading putting statistics
Every shot plotted on an aerial map of the course
Sync over Bluetooth or USB
Highest grade Smart GPS chip on the commercial market
Includes: Shot Scope watch, 16 lightweight tags, 1 x USB cable, free user account and iOS/Android/Desktop apps and a 1-year warranty
Save this product for later